Determining a Price for Your Project
When you create customized buildings, as we do at Legacy, determining how much a fabric building costs requires a longer answer than consulting a catalog or calculator. We don't have anything that's "off the shelf" for quick installation.
Our tenure and expertise in this industry has taught us that buildings that truly serve our customers are based on their needs, designed by our engineering team, manufactured in our plants, and installed by our construction teams. This is the Legacy process each and every time we build.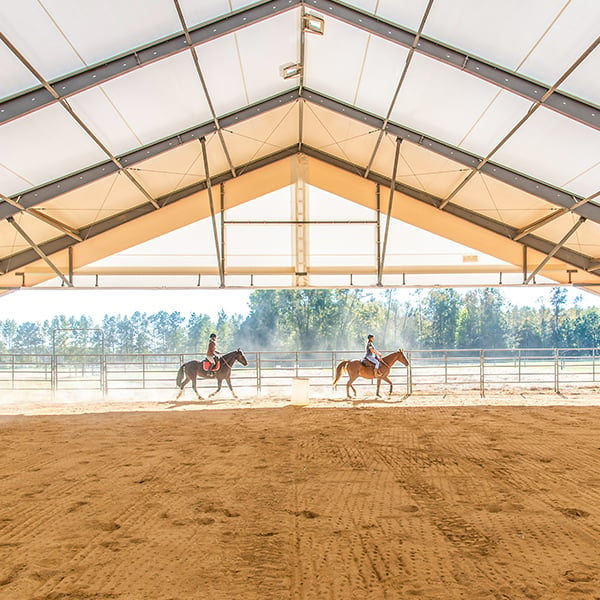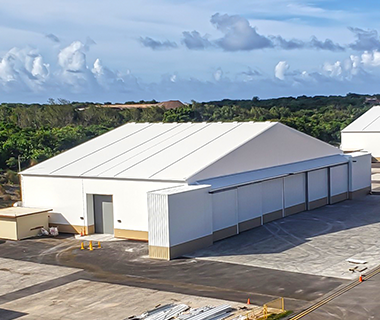 Determining your project cost will include components such as:
Do you have a general idea of how much space you will need?
Open walls, off-set peaks, enclosed and insulated, and roof height are all factors in their calculation.
In addition to our ExxoTec™ fabric cladding and solid steel I-beams, will you need extra corrosion protection (epoxy coatings) or precast walls?
Our solid steel beams can support a wide variety of equipment that will make your building more functional, from cranes and conveyors to goalposts and mezzanines.
We serve a wide variety of industries, from equestrian customers to military hangars, from bulk salt storage to hockey arenas. We have consultants who specialize in each industry, so they know how to listen to your needs and make suggestions based on their knowledge and experience.
The Legacy Difference
Custom Buildings
When you design nothing but custom buildings, making direct comparisons to other structures is difficult.
You can't really say our 50,000-square-foot storage building compares to the 50,000-square-foot structure of one of our competitors because we work with totally different materials. For example, you can't compare our solid steel I-beams to their web trusses because our frames are based on proven engineering, manufactured to handle almost any load and stand on their own.
Furthermore, you can't compare our installation processes to the competitors. We have a patented tensioning system that means our fabric exterior won't need to be retensioned over the years. Most of the other structures out there need to be retensioned repeatedly over the life of the building. That's one of the reasons we use our own installation crews; they are trained in our processes, and it shows.
We offer our own proprietary epoxy coatings for our steel—EpoxxiShield™. Many of the industries we serve—mining, bulk storage, salt storage—need corrosion protection for their structures. These epoxy coatings extend the life of the building and that protects your investment.

Talk to a Legacy Building Expert
More Tension & Less Stress
Building projects with Legacy Building Solutions means creating custom engineered fabric buildings based on your project's specifications. Together, we'll create the ideal building to meet your requirements while eliminating excess square footage, increasing energy efficiency, and resulting in a faster return on your investment.