Fabric Building Structures
Fabric Buildings for Sports and Recreation—It's All About The Athletes
Some of the most beautiful and complex projects we have done have been for the sports world. From football to tennis to swimming, our custom-designed structures meet the particular needs of sports facility managers. The weather is not always perfect. However, inside our tension fabric structures, it's always perfect for practice and performance. Our fabric cladding makes for beautiful, low-maintenance, crisp exteriors and bright interiors with wonderful acoustics. Your athletes and coaches will love it.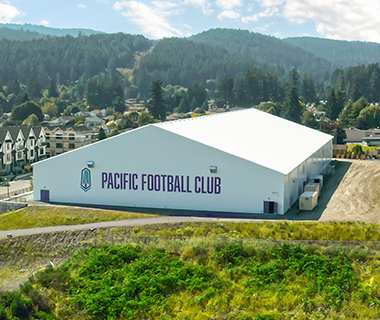 Our Process
Whether you have a complete building spec or just an idea in mind, our team will lead you through the design process with expertise and efficiency.
Our in-house engineering team leads the charge on creative solutions that benefit all project stakeholders—namely you.
Legacy is an end-to-end manufacturer, meaning your project will be built right on site in our 87,000 sq ft facility in St. Cloud, MN.
Now to the good stuff. Your installation benefits from our safe, effective process in one of two ways—your Legacy rep onsite with local crews or full install services.
Testimonials
The building provides a unique environment for attending a concert.
And the sound quality inside is amazing. It's a terrific venue.
Dan Mastronardi
Creative Concerts
The building allowed us to get everything we wanted for the price we could afford.
We are really happy with everything it's provided for our community, including the lifestyle changes. We attracted 30 new kids to our school, which is really big for our town. And we feel that building is one of the main reasons for it. The building allowed us to get everything we wanted for the price we could afford.
It was a breath of fresh air.
No one was really expecting your guys to install it as fast as they did. Once we got to that point where it was time to put the steel up and putting the fabric up…it was a breath of fresh air.
Adam McLeod
Stony Brook University
Start Your Project
Partnerships Equal Structural Integrity
Whatever your industry, project, and desired application, the Legacy team of engineers will make your vision a reality. Start your project with the team who will finish strong—like our partnership.