Fabric Building Structures
Fabric Buildings for Equestrian Arenas—It's All About Loving Your Horse(s)
Our equestrian clients are a special breed. They absolutely love their horses, and it shows when we talk to them about building a tension fabric riding arena. Everything about our structures—the natural light, the quiet acoustics, the protection from heat and cold—makes your riding arena perfect for your equine friends.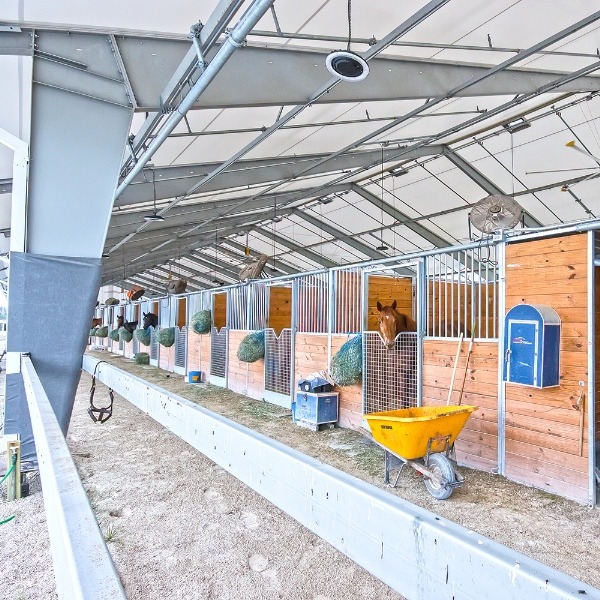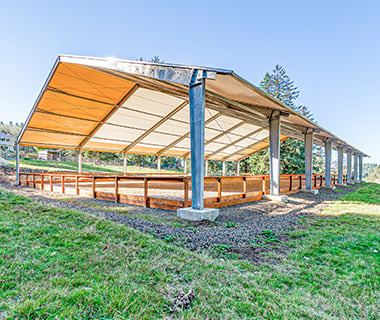 Custom to the Core
Legacy buildings are custom designed to meet the specific needs of your horses and the riding needs of our clients, whether that is dressage, jumping, show, or even polo. For our equestrian customers, it's all about their horses and we get that.
Suppose you and your facility, either a racetrack or fairground, is looking at adding or expanding stables, barns, or a riding arena. In that case, some factors should go into your decision-making process, such as:
Building Rigidity
Building Ventilation
Building Atmosphere
Built for Permanence
Legacy's tension fabric structures are built with solid steel I-beams, making them long-lasting and weather resilient. Solid steel is the best material for a structure you can use for decades. Our rigid steel frame design give our buildings customizability and engineering certainty.
Engineering certainty means our structures can withstand snow loads, high winds, and seismic conditions. With buildings in the Andes, northern Alberta, and hurricane alley Florida, are testimony to the building expertise we offer to our clients. Our Florida Product Approval, one of the strictest requirements in the building sector, tells you we know buildings.
Add to that our proprietary Exxotec™ PVC fabric; our buildings are creating a new standard for equestrian structures.

Building Ventilation
A Legacy fabric barn or fully enclosed riding arena is custom designed to provide maximum airflow, reducing moisture buildup and condensation. Gravity ventilation is the most cost-effective source of cool, fresh air to keep horses and riders comfortable.
Riding pavilions can allow a slight breeze through the building, supplying a constant fresh air source. Legacy designs buildings with a higher roof, allowing more air intake and clearance for warm, wet air to rise.
Options for rooftop ventilation include an entirely open ridge and various-sized exhaust ports. A constant airflow ventilation system can be created using roof vents and ground-level air intake.
Overhangs extend beyond the structure's sidewalls, mitigating moisture and repelling precipitation. With the additional building height and higher overhangs, your barn or riding arena will have ample clearance for tractors, stacked hay, or equipment to pass underneath.

Building Atmosphere
Horses have more sensitive hearing than humans but can also multitask and pay attention to multiple sound sources simultaneously - their sophisticated hearing raises the importance of acoustics in an equine environment. Fabric structures are naturally quieter, with reduced reverberation - especially compared to traditional steel sheeting materials. Customers report that their horses are much calmer in an enclosed tension fabric arena, barn, or open-air riding pavilion.
The fabric walls and roof panels are also thermally non-conductive, meaning it generally stays cooler in the summer and warmer in the winter.
Legacy's white ExxoTec™ PVC fabric provides 12% translucency. Choosing a Legacy open-air or uninsulated structure would allow natural sunlight to enter, which can be beneficial for horses. Additionally, the light that enters can reduce shadows, which can spook horses. Not only does natural light create a beautiful environment, but it can also make humans more productive and horses more serene.
Our customers are reconsidering how barns and arenas can look and operate as a result of the new trend Legacy has started in these structures. You can be confident you get an ideal solution for you, your horses, and the equestrians using the facility.
Legacy structures can be tailored to your horses' needs. Options include insulation, attached barns, wash bays, and tack rooms. Our tension fabric equine structure offers superior performance compared to traditional buildings and other fabric structures in horse care.

Our Process
Whether you have a complete building spec or just an idea in mind, our team will lead you through the design process with expertise and efficiency.
Our in-house engineering team leads the charge on creative solutions that benefit all project stakeholders—namely you.
Legacy is an end-to-end manufacturer, meaning your project will be built right on site in our 87,000 sq ft facility in St. Cloud, MN.
Now to the good stuff. Your installation benefits from our safe, effective process in one of two ways—your Legacy rep onsite with local crews or full install services.
Testimonials
Amazing amount of light.
You stand inside and have this amazing amount of light. It's hard for me to imagine that anyone would want to have a metal roof over them.
Lynda Krogh
Highland Farms
Their mission is customer service.
My family owned and operated Kuka Equestrian Center LLC. From the get-go, Legacy Building Solutions has been absolutely wonderful to work with. Their mission is customer service. If you have any questions, you don't get the runaround and someone is on it right away, and they stay in communication with you. If you are in need of a building, look to Legacy Building Solutions and let them put together the perfect building for you.
It's kind of like being outside all the time but still having shade.
I love the amount of sunlight that you still get through the roof. It stays pretty warm in the winter and cooler in the summer. It͛s very quiet inside. When you get rain or hail or wind, there's no banging or clanging, no sharp or rough sounds. The acoustics are good. It's fresh and dry and clean. You don't ever have condensation dripping off the roof. It's a controlled environment, yet you still get the benefit of the daylight coming in.
Start Your Project
Partnerships Equal Structural Integrity
Whatever your industry, project, and desired application, the Legacy team of engineers will make your vision a reality. Start your project with the team who will finish strong—like our partnership.