Fabric Building Structures
Fabric Buildings for Bulk Commodity Storage—It's All About Your Operations
Getting dry bulk materials from point A to point B usually requires storing the materials at both points. Keeping material out of the weather is necessary, but a solution is often needed quickly. Logistically speaking, fabric structures are ideal for bulk storage, and we offer customized, durable, versatile fabric structures beyond just storage. Our building can help streamline your entire operation.
There are two primary storage methods for storing bulk materials: horizontal (covered or uncovered) and vertical (silo, bins)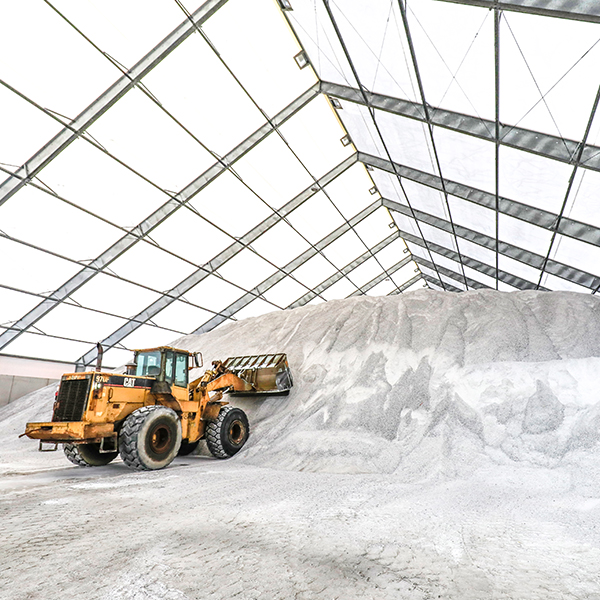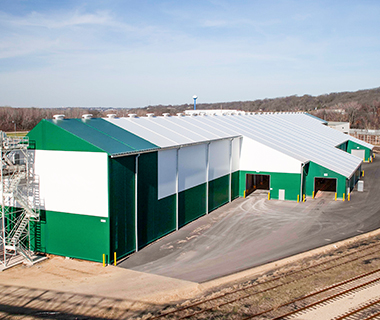 Bulk Flat Storage
Despite the widespread usage of both storage techniques, bulk flat storage has several advantages over vertical storage options, including:
Expanded capacity

Adaptability various operations
Due to variable pile height and layout, bulk flat storage buildings can offer higher capacity than vertical storage structures.
Cast-in-place or precast concrete panels offer a better load-bearing capacity, and building design can improve capacity to accommodate storage needs. This makes it possible to load materials, such as grains, fertilizer, and more, to the edges, maximizing interior space by removing dead zones.
Clear span or free span building design is another way to increase tonnage capacity for flat storage buildings. Rigid frame design is free of interior columns that take up valuable floor space and can create obstacles for equipment maneuvering.
Below are just some examples of specific bulk storage uses, Legacy structures can accommodate any bulk commodity need.
Bulk Storage Commodity Options
Our Process
Whether you have a complete building spec or just an idea in mind, our team will lead you through the design process with expertise and efficiency.
Our in-house engineering team leads the charge on creative solutions that benefit all project stakeholders—namely you.
Legacy is an end-to-end manufacturer, meaning your project will be built right on site in our 87,000 sq ft facility in St. Cloud, MN.
Now to the good stuff. Your installation benefits from our safe, effective process in one of two ways—your Legacy rep onsite with local crews or full install services.
Testimonials
The Legacy construction crew was very professional and courteous.
Because of our soil issues, we simply couldn't afford to construct a more traditional building. The concrete costs made a more traditional building cost prohibitive. The lightweight design of our Legacy building allowed us to reach a compromise between soil conditions and cost. Regarding the design and construction phases of the building, I can say that the process went exceptionally well. When I made eleventh-hour changes to the job, Legacy handled them with ease. They finished the job well ahead of schedule, worked safely, and followed our stringent safety requirements to the letter.
Joe Bitter
Alliant Energy/IEI Barge Services
Legacy was very easy to work with.
The old buildings used tubular steel, and no matter what you do, the salt gets inside the tubes and corrodes them. They came out here with their crew, rented all their equipment, and erected the buildings in three weeks flat – a week ahead of schedule. It's a stand-up company.
Everything that Legacy said they were going to do, they did.
We obviously had contracts, but the overall feel was kind of like the olden days, where you felt you could just take somebody at their word. Price is a major factor in any purchase decision. But we didn't blink at having to pay a little more for the Legacy structure. Sometimes you have to spend more to get a higher quality building. The installation was very smooth. Legacy's in-house crew worked in cold winter conditions, and they erected the building within five days. They were a very professional group, and I'd highly recommend them. We like the sidewall columns going straight up instead of curving down like in our hoop buildings. First off, it lets us put more product in there. And our front-end loaders can get much closer to the walls and drive straight down the sides. It gives us more working room and increases our efficiency. In the long run I think this will be a building that requires less maintenance. Legacy was so outstanding to work with that I didn't even bother looking at pricing elsewhere.
Start Your Project
Partnerships Equal Structural Integrity
Whatever your industry, project, and desired application, the Legacy team of engineers will make your vision a reality. Start your project with the team who will finish strong—like our partnership.