Fabric Building Structures
Fabric Buildings for Oil, Gas and Energy—It's All About Flow
Legacy's custom-designed fabric structures can be an important part of your oil, gas and energy operations. From open-air machinery storage to insulated buildings for crews or offices, our buildings have the kind of range you need. The thermal properties of fabric siding keep the interior cooler in the summer and warmer in the winter. It's also virtually maintenance-free. Legacy can expedite design, fabrication and installation because we do it all in-house. Let us fit one of our structures into your timeline.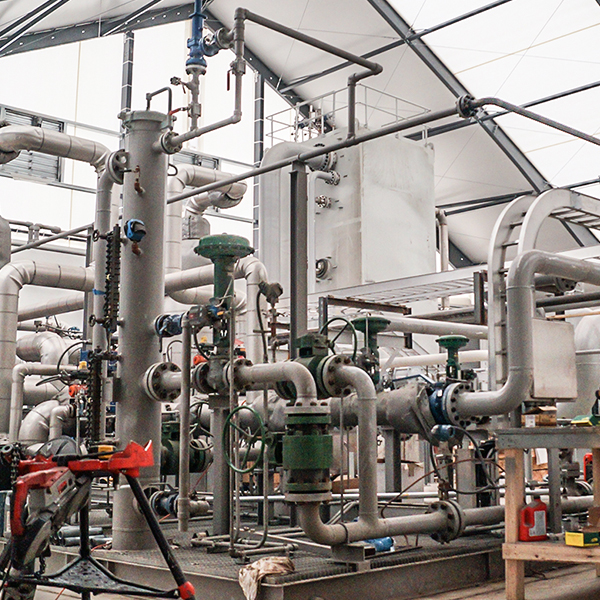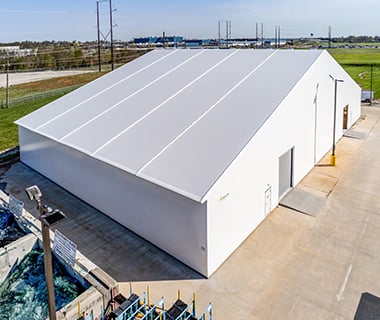 Our Process
Whether you have a complete building spec or just an idea in mind, our team will lead you through the design process with expertise and efficiency.
Our in-house engineering team leads the charge on creative solutions that benefit all project stakeholders—namely you.
Legacy is an end-to-end manufacturer, meaning your project will be built right on site in our 87,000 sq ft facility in St. Cloud, MN.
Now to the good stuff. Your installation benefits from our safe, effective process in one of two ways—your Legacy rep onsite with local crews or full install services.
Testimonials
It was a seamless process.
The crew was so professional, polite, on time and hardworking. It was amazing to see how much they got done. There were weather delays and they still finished early. It was a seamless process, and a pleasure to work with this group.
Andrew Morley
AGC Automotive
We had a great working relationship with Legacy
A lot of the temporary structures in the region are fabric structures, so we mainly looked at those types of buildings. Due to the overall project timeline, the buildings had to be constructed in the dead of winter. We had a great working relationship with Legacy throughout the entire process. They supply a very high quality fabric structure, and we're certainly pleased with what we've seen from the buildings thus far.
John Lehman
BBE Hydro Constructors
We were very impressed by their engineering team.
By today's standards, the buildings we're designing are of world-class caliber in the U.S. and Canada. Legacy offered several features that put them at the top of the list. They are unique among fabric buildings in that they build on a rigid steel frame. Everything looked good, from the eave and ridge ventilation system to the method for installing fabric panels. Combined with material delivery times and the time to construct, Legacy seemed like the perfect choice for our application. "The whole design is very efficient for our operations. Flexibility is key, especially when the building is a 'first of its kind' for the industry. We had one design change after the whole plan was in place, to widen our trapeze in the structure that supports the conveyor, and Legacy was able to make that change without any problem. The conveyor system fits and operates just as it was designed. "Legacy knew our schedule and saved us over 30 days of downtime. They stood the frames for the entire fabric structure in a single day, and everything - conveyors, electrical, fabric - was completed within five weeks of them coming to the site. It was a Herculean effort on Legacy's part. It was fantastic. They have a very passionate team, from top to bottom. In all respects, from design to pricing to production, Legacy is one of the best building contractors I've ever worked with. I look forward to working with them again.
Mike Miller
Source Energy Services
Start Your Project
Partnerships Equal Structural Integrity
Whatever your industry, project, and desired application, the Legacy team of engineers will make your vision a reality. Start your project with the team who will finish strong—like our partnership.